10 Best Operating Systems For Hackers 2017
Hello everyone!
In today's article we are going to talk about 10 best operating systems for hackers or pentesters in 2017.
I have used many hacking Operating systems since i started learning Linux and got an interest in the cyber security world.
i had taken some courses on udemy to learn how tcp/ip works,how networking works and other ethical hacking courses so on the way i had tried many OS that were built for penetration testers and use to hack my other computer from my main computer and then try to secure it Etc.
So today i will share with you guys what OS worked best for me.Please note that the list will be un-ordered,so number 1 in the list will not mean that it's the best as all operating system were my favourite so i can't really choose.
1:SANTOKU
Santoku Linux CE is a free and open community project with a core team of seasoned professionals from the world of mobile security. The platform is targeted at your professional needs in mobile forensics, mobile malware, and mobile security testing.
The word santoku loosely translates as "three virtues" or "three uses". Santoku Linux has been crafted to support you in three endeavours.
Mobile Forensics
Tools to acquire and analyze data
1: Firmware flashing tools for multiple manufacturers.
2: Imaging tools for NAND, media cards, and RAM.
3: Free versions of some commercial forensics tools.
4: Useful scripts and utilities specifically designed for mobile forensics.
Mobile Malware
Tools for examining mobile malware
1: Mobile device emulators
2: Utilities to simulate network services for dynamic analysis
3: Decompilation and disassembly tools
4: Access to malware databases
Mobile Security
Assessment of mobile apps
1: Decompilation and disassembly tools
2: Scripts to detect common issues in mobile applications
3: Scripts to automate decrypting binaries, deploying apps, enumerating app details, and more
2:KALI LINUX
Kali Linux is an open source project that is maintained and funded by Offensive Security, a provider of world-class information security training and penetration testing services.In addition to Kali Linux,Offensive Security also maintains the Exploit Database and the free online course,Metasploit Unleashed.
Kali Linux comes with more than 300 hacking tools pre-installed and ready to use which is pretty amazing and you can always install more tools with our favourite "apt-get".
Kali Linux is one of the best operating system for security experts.
Advertisement
3:WEAKERTHAN
Weakerth4n is a penetration testing distribution which is built from Debian Squeeze.For the desktop environment it uses Fluxbox. This operating system is ideal for WiFi hacking as it contains plenty of Wireless tools.
It has a very well maintained website and a devoted community.Built from Debian Squeeze (Fluxbox within a desktop environment) this operating system is particularly suited for WiFi hacking as it contains plenty of Wireless cracking and hacking tools.
4:CYBORG HAWK
Cyborg Hawk is based on Ubuntu Platform with Latest kernal for cyber security professionals, but is can be used by everyone ,however it is recommended to be not used by those who are unfamiliar with linux as it contains major tools for penetration testing and cyber security purpose.
Cyborg Hawk comes with more than 300+ powerful tools already installed for you and ready to use. You can check the list of tools than come pre-installed on their website Here.
Cyborg Hawk comes in two version which is the "Cyborg Hawk" which has all the tools installed and "Cyborg Hawk Essentials" which comes with only the essential tools that you need,this was built for computers with low specs.
5:BAKBOX
BackBox has always been my favourite OS because of its lightweight as i was not a fan of many tools and i always installed the tools that i need easily.
BackBox is more than an operating system, it is a Free Open Source Community project with the aim to promote the culture of security in IT environment and give its contribute to make it better and safer.
BackBox Linux is a penetration testing and security assessment oriented Linux distribution providing a network and systems analysis toolkit. It includes some of the most commonly known/used security and analysis tools, aiming for a wide spread of goals, ranging from web application analysis to network analysis, stress tests, sniffing, vulnerability assessment, computer forensic analysis, automotive and exploitation. It has beed built on Ubuntu core system yet fully customized, designed to be one of the best Penetration testing and security distribution and more.
6:PARROT-SEC FORENSIC OS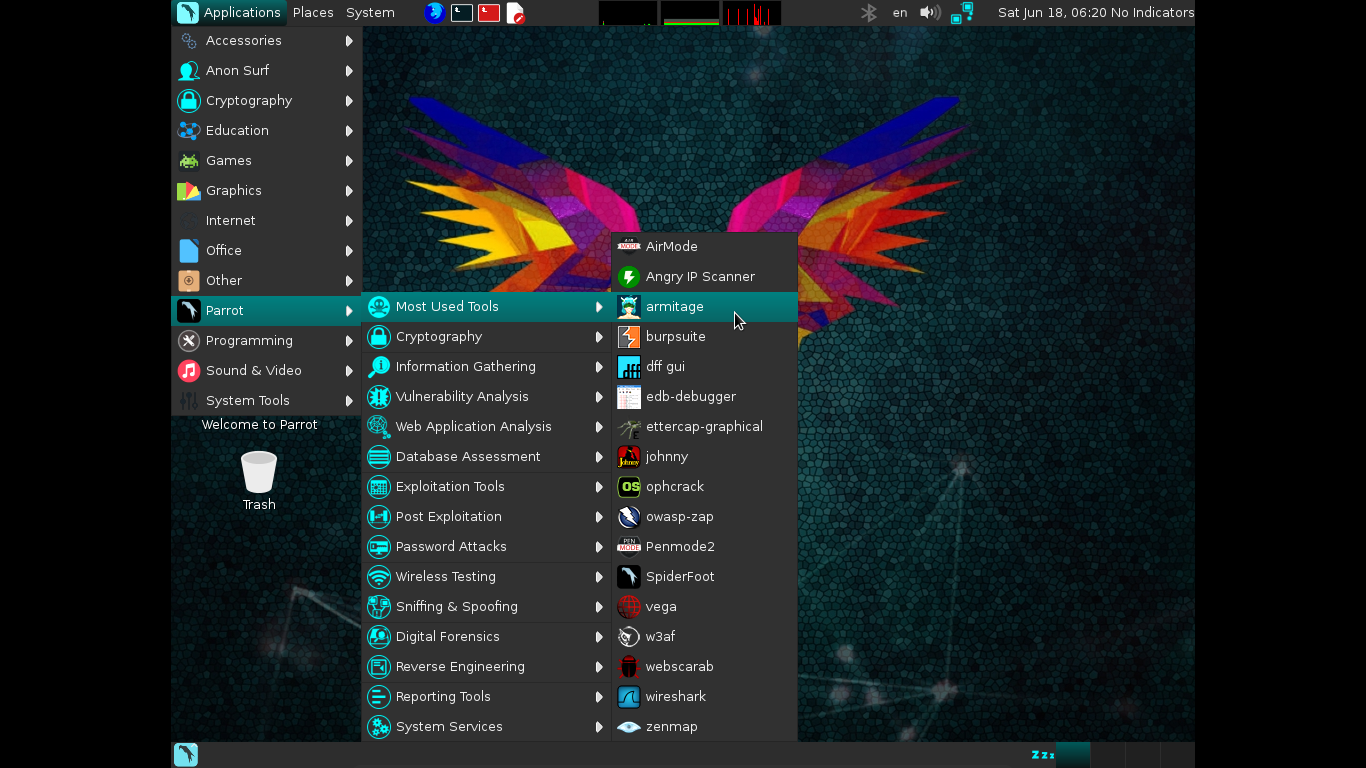 Parrot Security is an operating system based on Debian GNU/Linux mixed with Frozen box OS and Kali Linux to provide the best penetration and security testing experience for the attackers and security testers. It is an operating system for IT security and penetration testing developed by the Frozen box Dev Team.
It includes a full portable laboratory for security and digital forensics experts, but it also includes all you need to develop your own softwares or protect your privacy with anonymity and crypto tools.
Advertisement
7:BLACK ARCH LINUX
BlackArch Linux is an Arch Linux-based penetration testing distribution for penetration testers and security researchers. The repository contains 1703 tools. You can install tools individually or in groups. BlackArch Linux is compatible with existing Arch installs.
8:BLACKbUNTU
Blackbuntu is Penetration Testing Linux Distribution.Blackbuntu is specially designed for training students or whoever is interested in learning more about cyber security, penetration testing, internet security and information security. Just like Kali,Parrot,Cyborg, BlackBuntu also comes with plenty of tools installed right out of the box like Information Gathering, Network Mapping, Vulnerability Identification, Penetration, Privilege Escalation, Maintaining Access, Radio Network Analysis, VoIP Analysis, Digital Forensic, Reverse Engineering and more.
9:NETWORK SECURITY TOOLKIT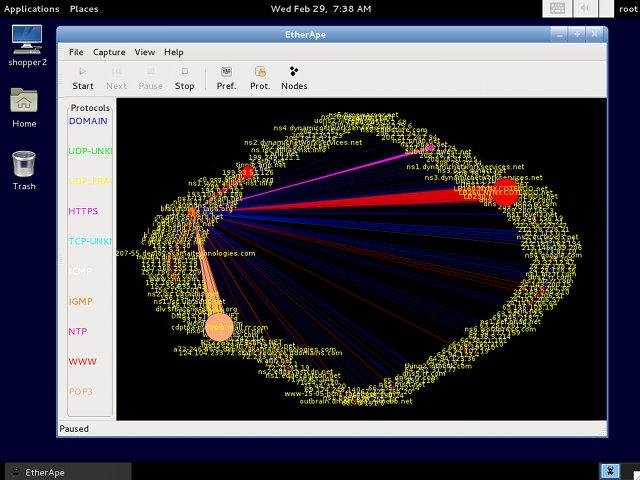 Welcome to the Network Security Toolkit (NST). This bootable ISO live DVD/USB Flash Drive (NST Live) is based on Fedora.
The toolkit was designed to provide easy access to best-of-breed Open Source Network Security Applications and should run on most x86_64 systems.
The main intent of developing this toolkit was to provide the security professional and network administrator with a comprehensive set of Open Source Network Security Tools. The majority of tools published in the article: Top 125 Security Tools by INSECURE.ORGare available in the toolkit. An advanced Web User Interface (WUI) is provided for system/network administration, navigation, automation, network monitoring, host geolocation, network analysis and configuration of many network and security applications found within the NST distribution.
In the virtual world, NST can be used as a network security analysis validation and monitoring tool on enterprise virtual servers hosting virtual machines.
10:GNACK TRACK
GnackTrack is an open and free project to merge penetration testing tools and the Linux Gnome desktop. GnackTrack is a Live (and installable) Linux distribution designed for Penetration Testing and is based on Ubuntu.
Advertisement
I hope you enjoyed my post,if you have any questions or suggestions,please contact me and i will get back to you within 24 hours.Thank you.